Last year around October the rear tire on our Vino went flat. We were prepping it for one last end of season ride over to Sechelt (which involves a short ferry ride from Horseshoe Bay) . The Vino didn't get used very much last season, only 2 group rides in total and that was to Steveston, BC in early Spring and it has just sat around ever since. The irony is that I was actually on my way to a local scooter shop to have the bike 'checked' out for the ride and it went flat on the way. It was pouring rain and I was stranded on Wolfe Avenue, between Granville & Oak streets. I called the shop but was told that Wayne was away, so what to do. There was no choice really, as I tried to push it but then the rim would just rip the tire to shreds. The tire was really, really, flat and the bead had lost contact with the rim.
One phone call and a long 45min wait later comes my wife in the car to pick me up, then back home to connect our 3-rail trailer (to the rescue). There was no cover during the monsoon-like rains an I was just soaked. We got the scoot back home, fired up the compressor and got the tire inflated back to recommended pressure. Everything seemed fine so the next day off on our last ride of the season.
Fast forward to today. In the back of my mind I had a mental note to look into new tires for this years new riding season. As the scoot is not currently insured, out came the trailer again to take it to the scooter shop.
Loaded up and ready for the trip to Richmond:
I'm no expert when it comes to securing the scoot to the trailer so I used 2 anchors on each side; one cam lock and one ratcheting thingy, and one strap to secure the tail. My general rule is to check the looseness/or slack every 20 minutes to make sure it doesn't fall off. I know that you are supposed to compress the front shocks and ratchet the front end down a few inches.
We finally arrive at
Wayne@Scooter
in Richmond: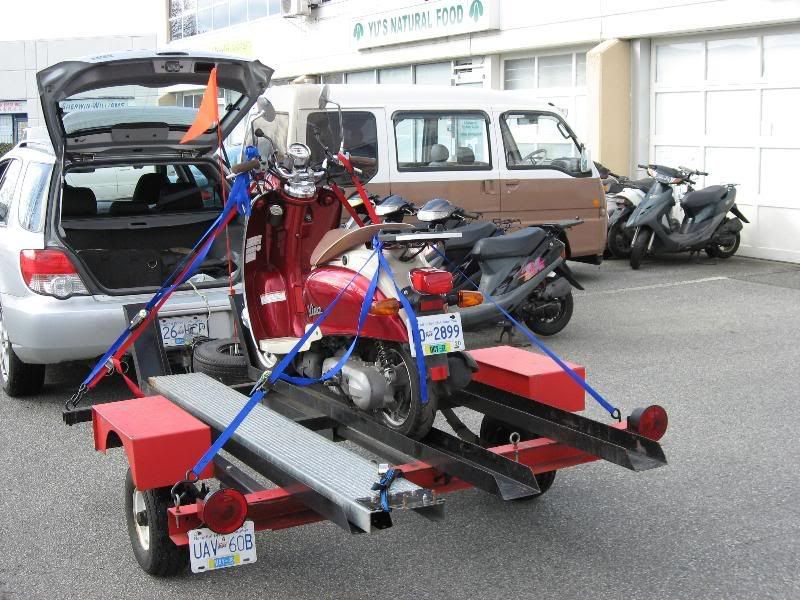 As you will notice, we made it safetly to Wayne's shop. I unloaded the scoot and thought that I would just start it up . . . but NO KEY ! OH NO, in my haste to rush down to Richmond I remembered that I had to put the key into the GIVI top case to detach it from the docking base, thus when I put the GIVI in the garage I inadvertently left the keys in the case. More wasted time, I was intending to rush down to the local Vespa dealer where Robert was making Cappucinos (funds for charity). Now I had to make another return trip from home/Richmond just to bring the key for the scoot. The traffic was very heavy down Oak Street, bumper to bumper traffic for miles before we could even get near to the Bridge. I was dreading the return trip that was caused by my own forgetfullness.
Finally I arrive at VV: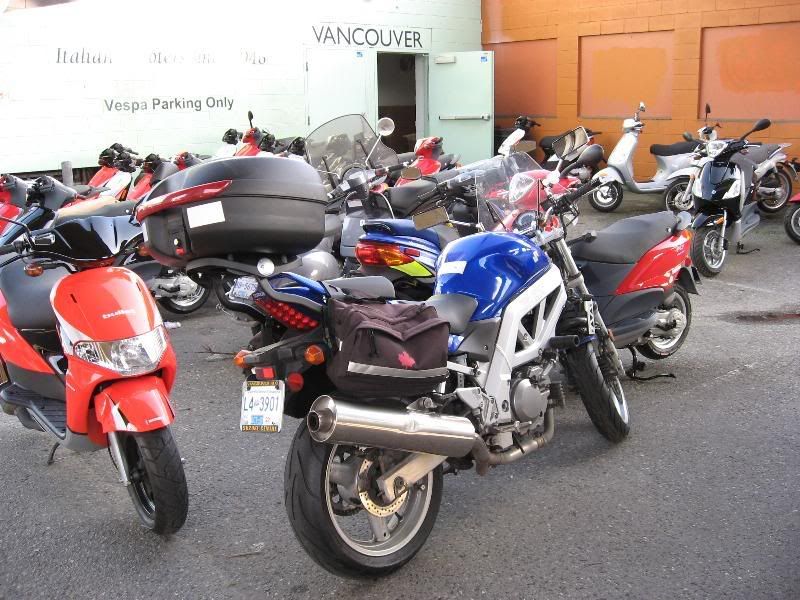 Well, I finally get to VV. Better to arrive late than never, but a beverage was not to be. Robert informs me that he has run out of milk. No milk means no Cappucino for me today. I don't think my SV looks too out of place amounts the little guys. I had to get it out for exercise (but that's a story for another day). Since I arrived late, which I rarely do, I have missed the crowd. Delia picked up her new S90, Paul came on his new (to him) Silverwing, then I find out that Tony waited at Waynes for me to show up, but I got there late.
Oh, another use for a 3-rail motorcycle trailer: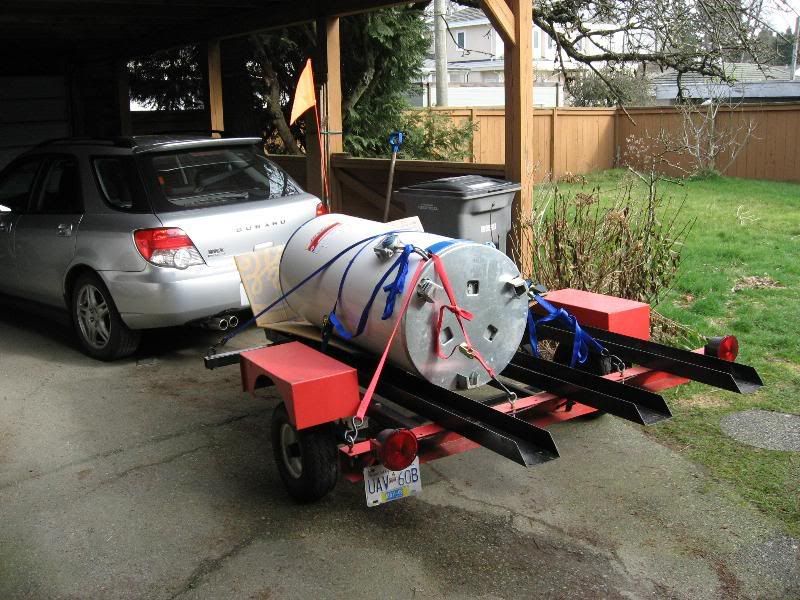 Excellent way to dispose of a hot water heater. I had a new water heater installed back in September, but as there was a civic garbage strike, there was no way I could get ride of that thing, until now . . .