It was a great day today. Heavy frost in the morning but by noon it had burned off and it was time to roll the Wee out for a ride. A cold front had moved into our area from the Arctic. I think Alberta got the brunt of the storm with heavy snow falls. I headed down to False Creek to survey the views of the water.
(The Wee at Science World)
Science World is at the Eastern End of False creek. This "Dome" was constructed for Expo '86 and originally was a 6 story high Imax Theatre. The Imax is still there but the downstairs area has been converted into a Science Centre.
For the last few posts I have travelled down here to do some night photography. Today I came in the bright sunshine so that you would be able to see what it looks like during the daytime
I don't know if you have noticed but I have been rotating my image makers
(cameras)
. On one blog entry all of my photos were taken with my Samsung Omnia i910 smart phone. On the Cambie Village segment I used my Canon G10 exclusively for the accompanying photos. Today I used my Canon SD780is
(sacrificial lamb)
P&S camera. There are NO manual modes which makes it an unlikely candidate for night shots, but it is very small and works automatically when there is enough light. It also has 720p HD video mode, but you cannot zoom while "filming"
(or is that "videoing ? ")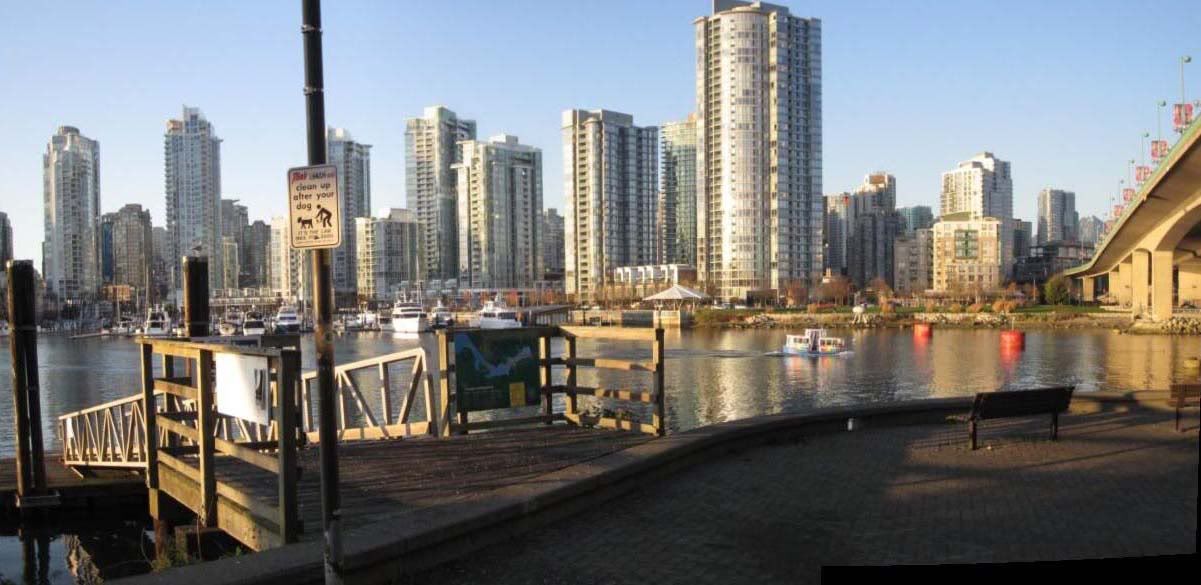 (click on image for full panorama)
This is a stitched panorama using only 2 images from my SD780is, using Autostitch as the camera does not have panorama assist mode = PAM. On my G10 and other higher models there is a PAM which lets you overlap images to form the image. It also keeps all the settings THE SAME to help with colour balancing. With the SD780is, the camera would choose a different setting for each photo as the light changes with every segment. With Autostitch you don't have to worry as it "blends" each image and balances all the light levels for you so any camera you have can "shoot" Panoramic images. If you wish to make very large photos you have to navigate the "edit" tab and understand what all the boxes mean. This program is very good to have if you have a SMALL megapixel camera as it can accumulate more pixels as you merge more images.
The inspiration for the following set of photos comes from Mr Conchscooter
(Key West Diary).
. They are undertaking a 200 million sewer upgrade down in the Keys
(Florida)
and he has posted pictures of pilons and other road signs. I noticed that we have some of those signs here too
Dismount and walk on the sidewalk is easier said than done. I find it very difficult to push a 550 lb top heavy Wee very far on the sidewalk. The Wee was designed for gravel roads, I wonder if I should just roll on the gravel ?
If you were to ride around Vancouver you would find a lot of road improvement projects in process. If only we had the funds to pay for them. The city is cash strapped being $65M overbudget for the next fiscal year.
We are at 10th & Cambie a mere 6 blocks north of Cambie Village and one more block north will find you at a major intersection of Broadway & Cambie. Broadway is actually 9th Avenue. You can see the Downtown Area in the distance which is down the hill and over the Cambie Street Bridge. The new Skytrain Station at Broadway is on the right, still doing the finishing touches to the sidewalk.
Here's a closer view looking towards downtown using the 3x zoom of my Canon SD780is.
(Intersection: Broadway & Cambie Streets, Vancouver, BC)
I leave you today with one more image taken with the SD780is

(False Creek, Vancouver, BC) click on image for full panorama
All images today were taken with a Canon SD780is P&S camera. The last image was created from 2 images using Autostich software, which is FREE.
(just Google for it)