Last Saturday we went on a little ride to Hope, BC. Our group (2 vespas and a Kymco) started early in the morning with the intention of taking backroads to enjoy the scenery and our beautiful summer weather. I don't believe that summer is finally here and hopefully stay for a while.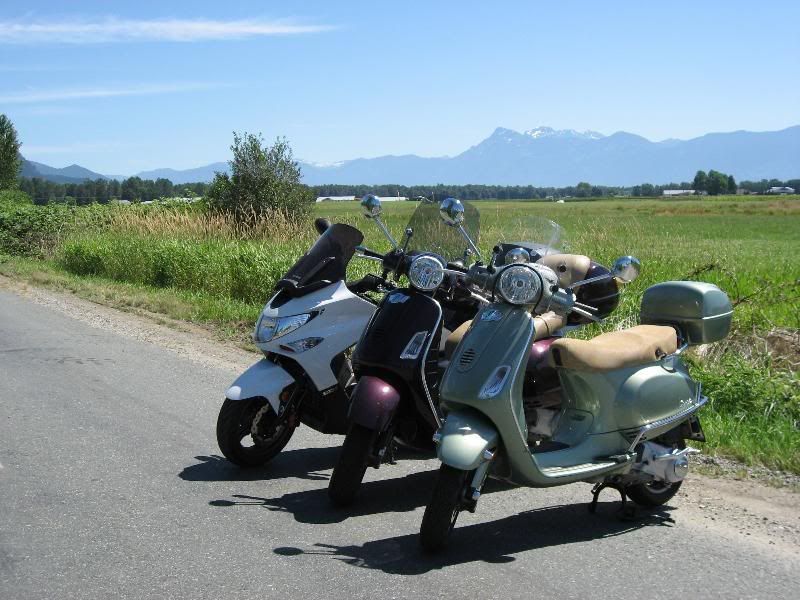 The Lougheed highway is a peaceful alternative. We scoot our way through miles of farmland and lots of "country perfume" . Traffic is light and we are content to wave them by so we can ride at our relaxed pace. After all, we are on our scooters and are in no particular rush to get anywhere fast. Once in a while we stop to stretch our legs. Often photo ops pass us by as there are not that many safe places to pull over.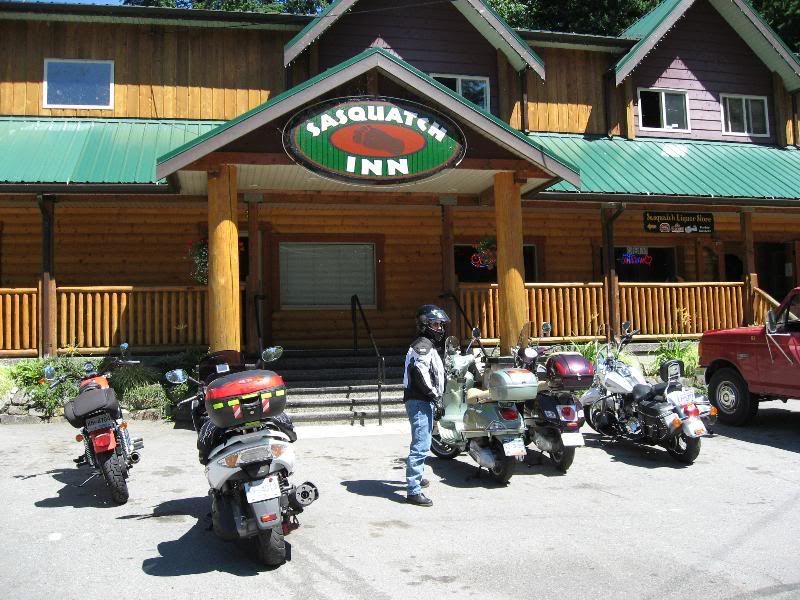 Can't pass up an opportunity to take a picture at the Sasquatch Inn, near Hemlock Valley. There are usually lots of Bikers here but I suppose that we are too early for them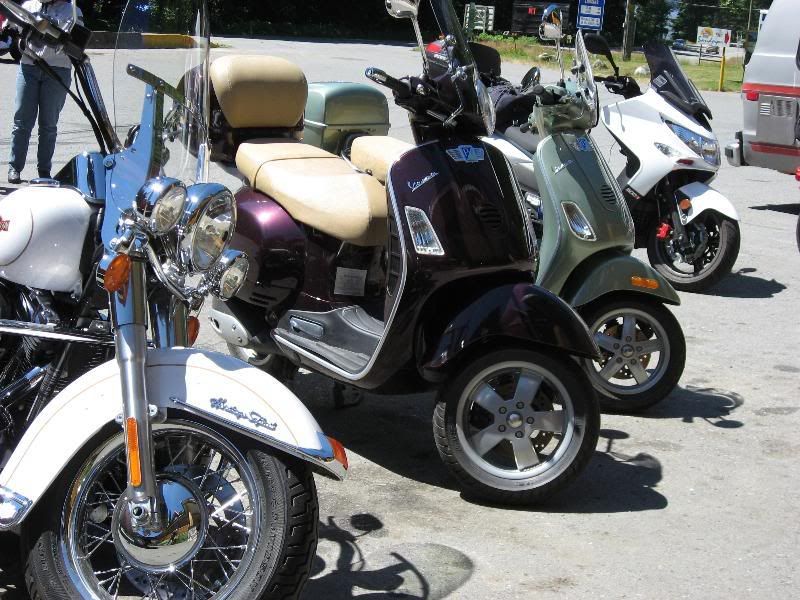 Don't you think that our scoots just fit in nicely between the Harleys ?
A little farther along we are still on Hwy 7 between Agassiz and Hope, BC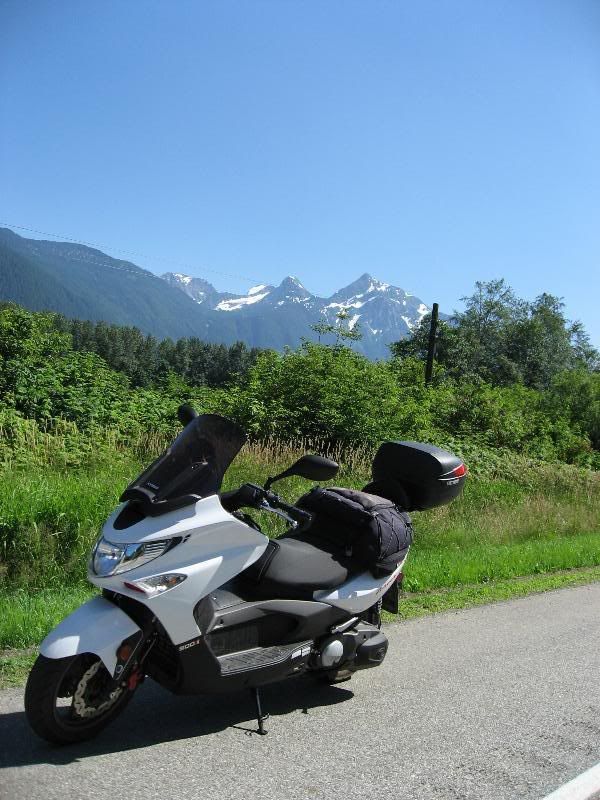 We finally make it . . .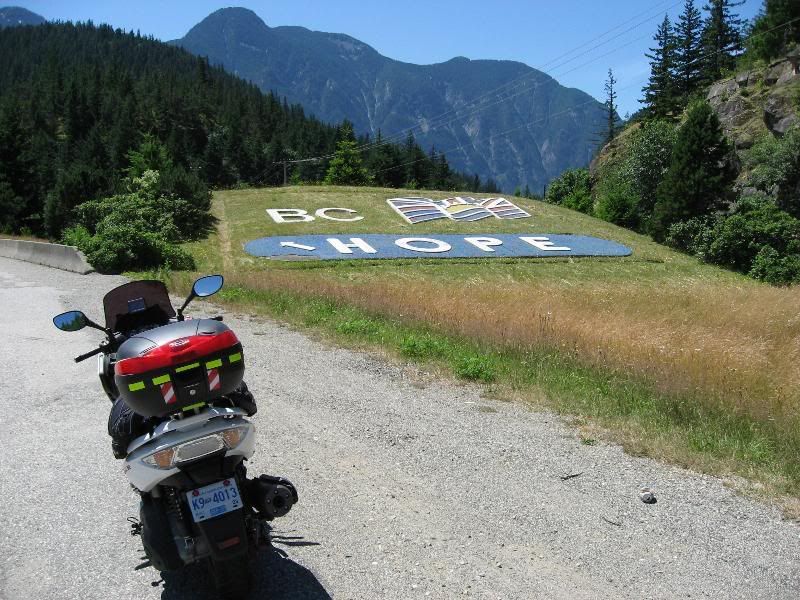 After a quick W/C break and refreshments at this nice coffee shop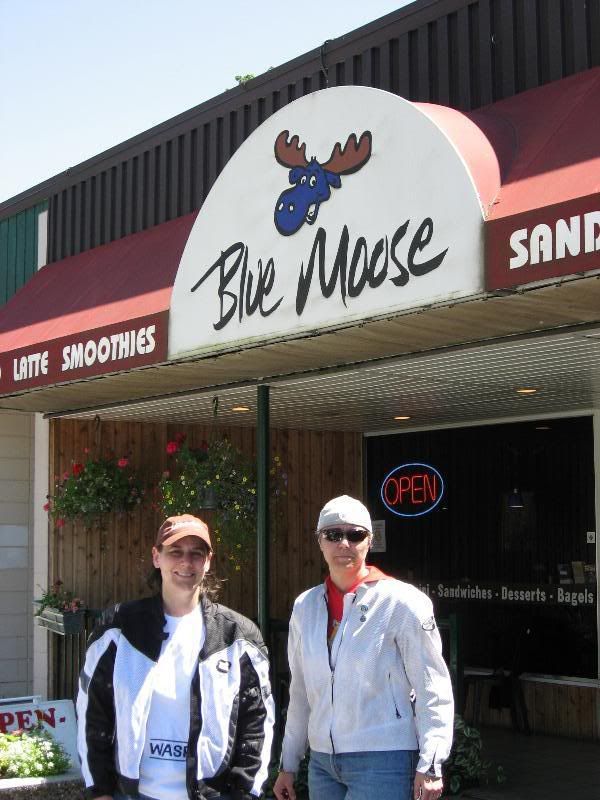 We play tourist and get another photo op at the Rambo Site. Hope was the setting for the first Rambo movie "First Blood"
Many of us pass through Hope on our travels and most only think of this little town as a "gas" stop on the way to somewhere. Not many people know that there was an engineering feat just on the outskirts of town where they had to blast tunnels through solid rock through Coquihalla Canyon for the Kettle Valley Railway. The Railway shut down around 1961 and the tracks have been removed, but the tunnels remain as a tourist attraction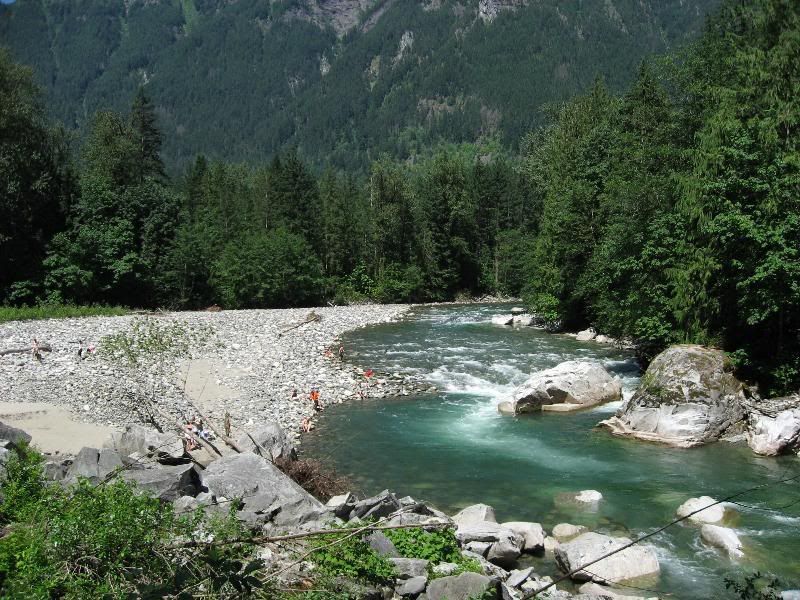 From the parking lot we walked along the old railway bed beside the fast flowing river and we eventually get to see our first glimpse of what we had come to see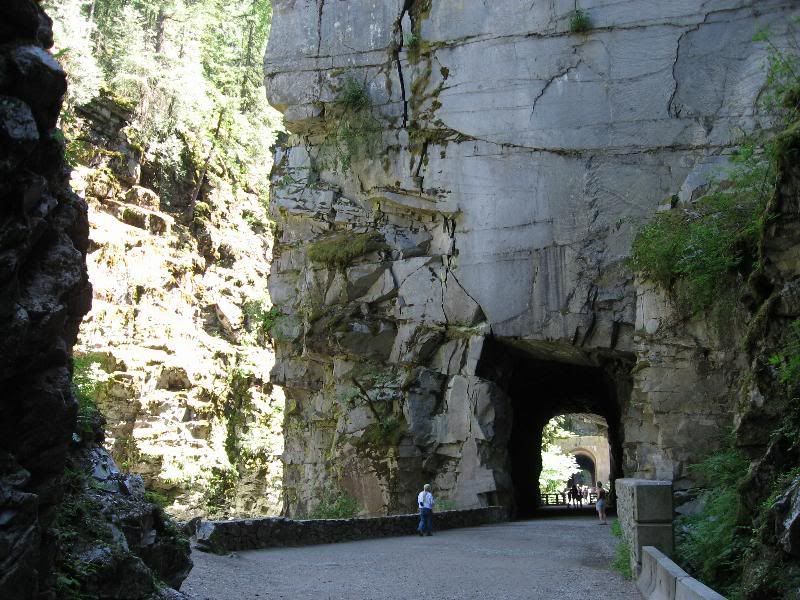 While it was a very hot day, at least it was hot because of all the protective gear we had to wear while we ride . . . inside the tunnels, it was very cool, sort of like having natural air conditioning, and a little breeze too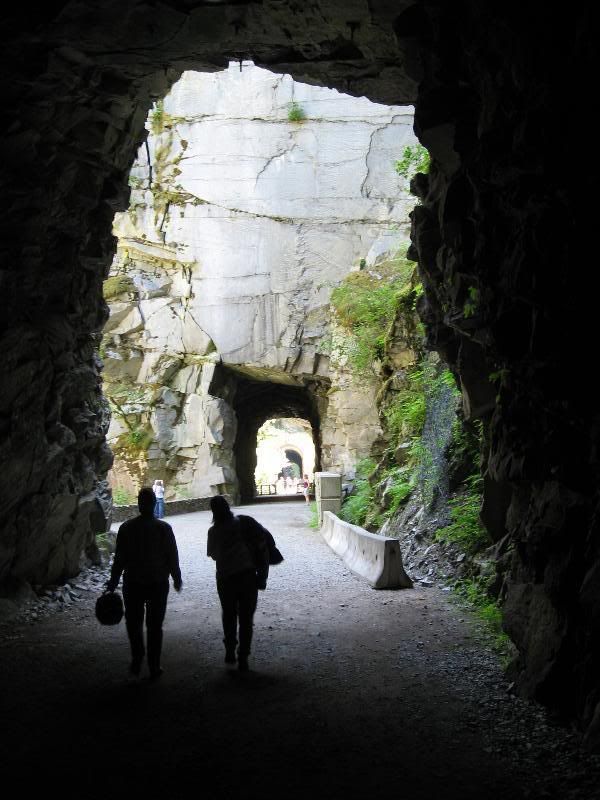 Here is another view from the inside
Today the parking meter/ticket machine was broken so we only had an hour before our time expired so we headed back to our scoots and started our journey back to town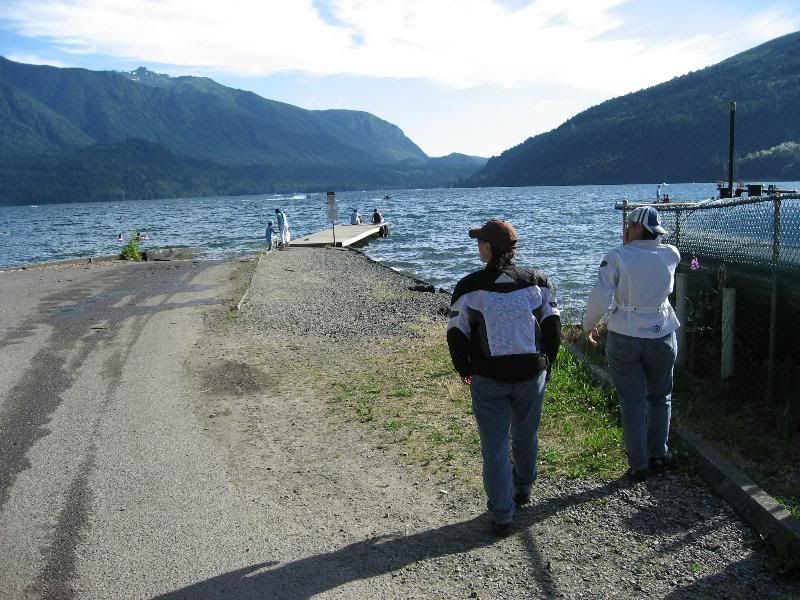 We took a short diversion to Cultus Lake and while it was late in the day there were lots of people just enjoying their day on the water.
Oh Oh, almost forgot, one of us took a test ride on a Mana 850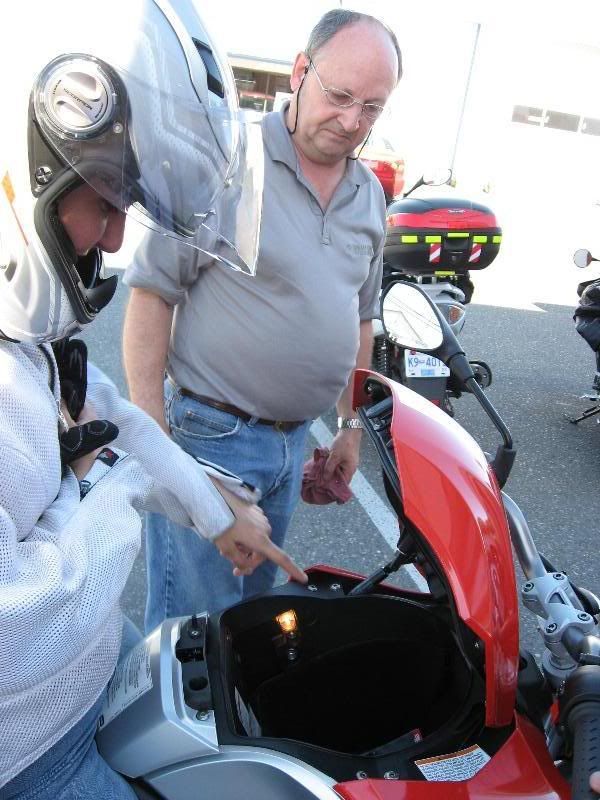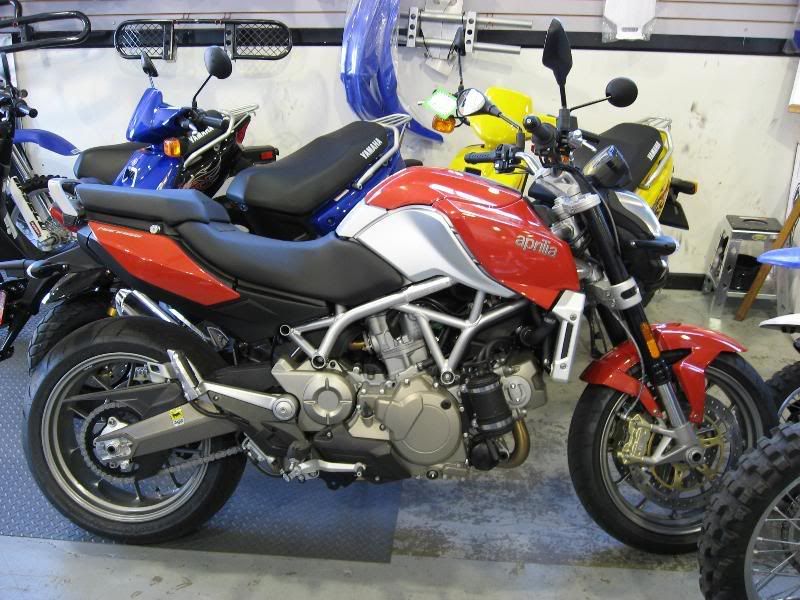 This is a technological wonder from Aprilia. it is a 7 speed CVT type auto/manual transmission with paddle shifters, and NO clutch lever. Also the "gas" tank is really storage as it opens up to accept a 3/4 helmet. The Fuel is under the seat.
It was a really great day with great friends; Emilia, Lise and we were also joined by Richard for our return ride to town (Burnaby/Vancouver)
One last chance to say our goodbyes, until next time . . .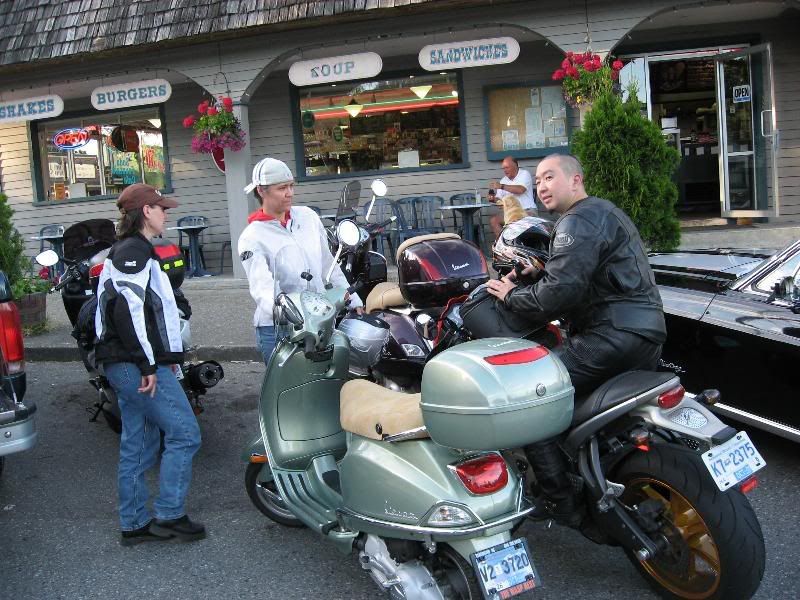 Today I logged 395 kms , in 12 hours, got home at around 10PM just in time to go out for a late dinner.