Yaaaa hooooo, it's Saturday and breakfast with the guys at our favourite motorcycle cafe then off to do my errands. The forecast was for torrential rains so I thought it was time to do the oil change on the GS. I have been neglecting it for the past few years as I prefer the joy and ease of riding my scoot, but it was just one of those unfinished things that was in the back of my mind. The last time I actually rode it was back in August. Then my friend JohnB came over and we adjusted the chain, checked everything over and topped up the oil. THAT was the problem, we topped up the oil. Recently I was thinking about this and I realized that I didn't have the right kind of oil that was needed in order to top up the oil. I only had oil for CARS, NO oil for motorcycles. Motorcycles need different oil as it also lubricates the transmission and has a wet clutch, and the stator is also immersed in the oil, so you have to be careful to put in the correct oil in there or there could possibly be a very substantial future problem. Luckily, no damage done as I have not used the bike, but I had in the back of my mind to do the oil change before the Spring. Yesterday on the way home from work, I rushed to the local Suzuki Dealer to get the correct oil. Got there just in time and purchased a 4 ltr container. Oh oh, problem-o, I had to return to the dealer today to get a couple of crush washers, and Aaron said to me "I was going to ask you about those" but he didn't, and I told him it was his fault that I had to make this extra trip. Anyway, got those crush washer(s)
{saving one for spare}
and got the oil changed.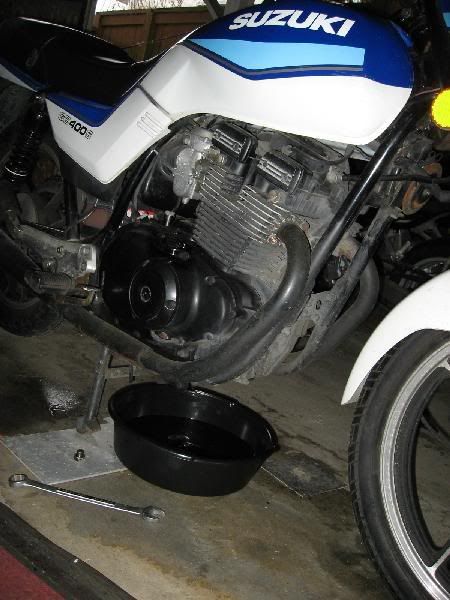 Everything is working to plan. And where is the Rain ? Hasn't started yet. I was hoping to get some scoot time in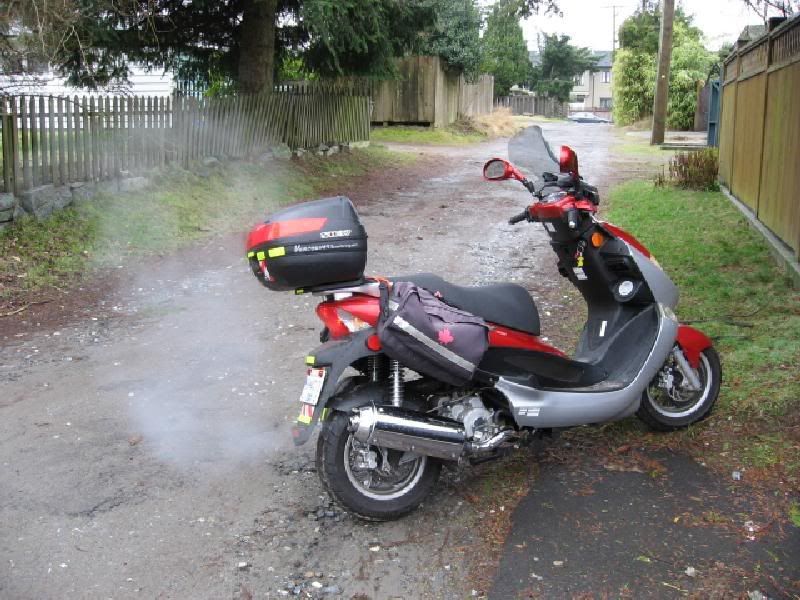 We are still in the midst of Winter and there hasn't been much time for scooting. As mentioned before there is still ice on the roads when I leave for work
(before 7am)
and I just won't risk it. But the weekends are different as I start out later. It feels so good to be able to get the scoot out for a ride, plus you don't have to ride in the dark. There is still lots of sand on the roads so you have to take it easy on the turns.
On Saturdays, Barista, Reverend Robert hones his skills at the local Vespa Dealer
(I wouldn't normally mention names, BUT as they have agreed to match the amounts donated, I think that a big thank you is in order for Vespa Vancouver and Bob Hillman).
During the riding season we usually have group rides arranged on Saturdays, but during the non-riding season Robert, the Reverend thought that it would be a good idea to have a place to congregate, socialize and just talk about scooters, and other topics of the day. Since we meet up in the showroom, there are also lots of scoots to drool over. Need I also say that Robert is also a chef extrordinaire as he usually brings along some of his creations for dessert, and he makes a mean; latte or Cappucino too .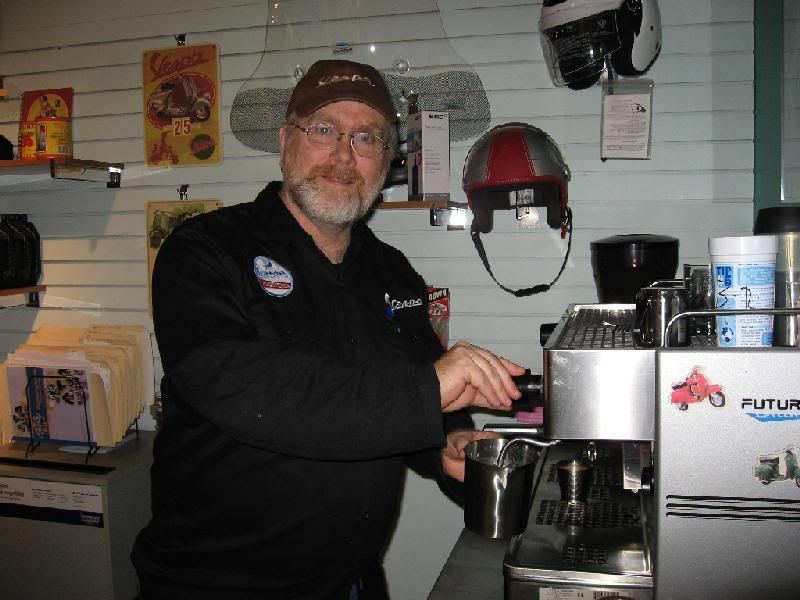 Did I also mention that Vespa Vancouver also supplies all the ingredients as well as the expresso machine. If you have time next Saturday, why don't you come by, we'd like to meet you.